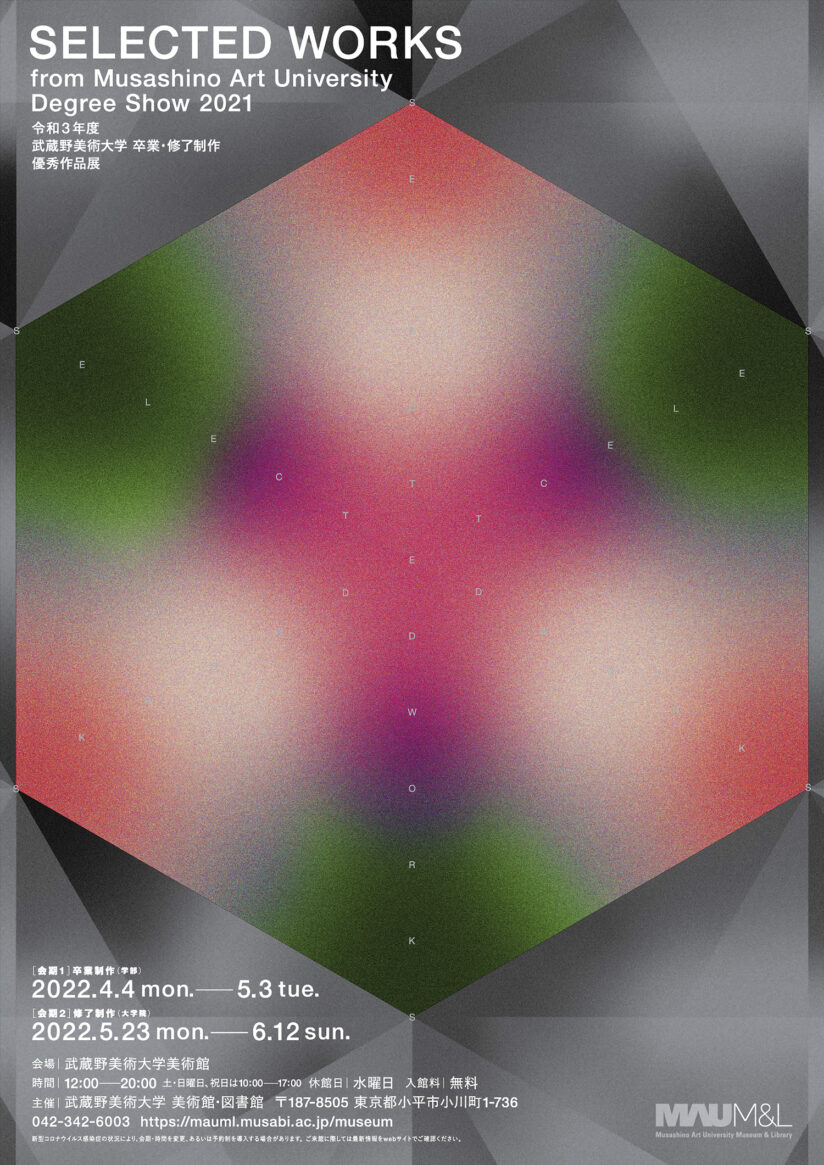 April 04, 2022(Mon)-May 03, 2022(Tue)
May 23, 2022(Mon)-June 12, 2022(Sun)
Bachelor|April 4 (Mon) – May 3 (Tue), 2022
Master|May 23 (Mon) – June 12 (Sun), 2022
Selected Works from Musashino Art University Degree Show 2021
Prize-winning graduation works by about 100 undergraduates and graduate students at Musashino Art University are displayed during two exhibition periods. Paintings, sculpture, prints, graphic design, crafts, architecture, film, performance: through these works and students' theses, we present the results of the broad-ranging art education put into practice at this university.
Date

April 04, 2022(Mon)-May 03, 2022(Tue)、May 23, 2022(Mon)-June 12, 2022(Sun)

Bachelor|April 4 (Mon) – May 3 (Tue), 2022
Master|May 23 (Mon) – June 12 (Sun), 2022

Time

12:00 - 20:00 *Saturdays, Sundays and National holidays: 10:00 - 17:00

Closed

Wednesdays

Admission

Free

Venue

Bachelor|the entire museum
Master|Gallery2, Atrium1,2

Organizer

Musashino Art University Museum & Library
Due to COVID-19, changes may be made exhibition periods and museum hours, and a reservation system made be introduced. We announce the latest information on this website.
Inquiries
Contact Form
Musashino Art University Museum&Library